July 24th, 2017
Most decisions are made on an emotional basis. This is the conclusion of current research of human behavior.
When we first met Marilyn, she wanted to know her options about one front tooth that had decay.
In a process of co-discovery, it became evident that Marilyn wanted more. She really wanted to be proud of her smile!
It was an emotional decision to proceed with a comprehensive approach to improve Marilyn's smile. A rewarding one! This process was successful because it was based on solid knowledge, skill and exemplary communication between the treating clinicians, Drs. Mears and Ntounis.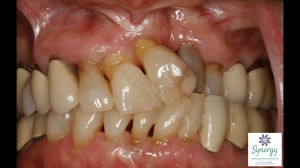 Initial situation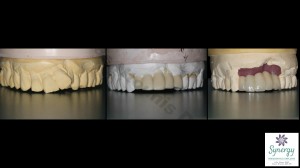 Proper planning with the final result in mind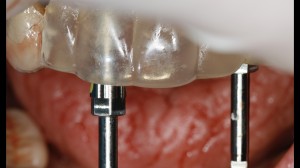 Implants placed according to template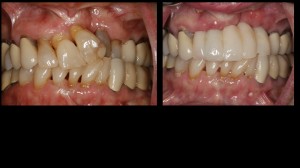 Before and after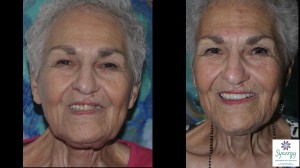 June 26th, 2017
The use of digital technology has revolutionized the way we practice. It allows for safer implant placement and allows us to provide magnificent treatment! This patient came to us and was concerned about broken down teeth that severely affected her quality of life.
After comprehensive planning, we were able to provide a complete make-over in one visit and provide our patient with teeth she can enjoy. She looks amazing and her implants will perform for the rest of her life.  They were placed in a fully-guided manner with the help of computer technology in the best positions available! She can now smile confidently!
No guess work here!
(click on images to enlarge)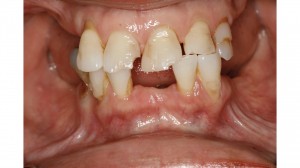 Initial condition affecting esthetics and the ability to eat properly.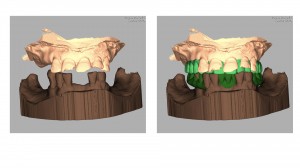 Digital set-up of new teeth (in green) superimposed on the existing broken down dentition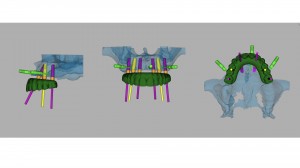 Digital planning for implant placement in the best positions possible!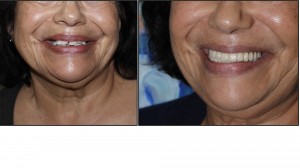 Within a day, our patient leaves with fixed teeth. This set will serve as a "test drive" before the final upper and lower implant supported bridges in 6 months. The transformation is life changing and our patient is so happy!
March 8th, 2016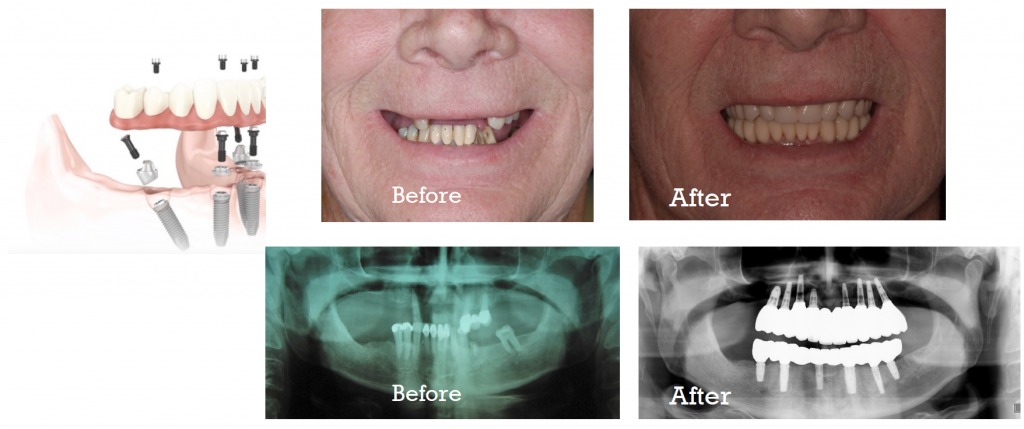 We have been getting a lot of questions from you as far as "teeth in the same day" protocols. The commercials on radio and television have raised logical inquiries.  We would like to clarify some of these points.
Drs. Pitman and Ntounis have extensive experience on dental implants and teeth in a day treatments. Dr. Ntounis is a dual specialist in Peridontics and Prosthodontics. To reach that level, Dr. Ntounis has spent 6 years of additional training in residency after dental school.
He has helped a great number of patients navigate through the various treatment options. The same treatment modalities were pioneered in the 90's and fall under the category of immediate loading of dental implants. Here are some of your questions with our answers:
1. Are teeth in a day possible?
Yes they are for the right candidates after a meticulous clinical and radiographic examination that will involve a 3-D radiograph (CBCT)
2. Do you provide this at your practice?
At Synergy Periodontics and Implants, Drs. Ntounis & Pitman have been very successful in providing immediate solutions to our patients such as teeth in a day.Since this is a combined surgical and restorative treatment, we work with the best restorative dentists of our community and we are there throughout the procedure to ensure optimum outcome.
3. Is the "teeth in the same day" a good option for everyone?
There are a number of factors that we consider during our planning. Several risk factors include history of severe periodontal disease, smoking and uncontrolled diabetes. We modify our treatment to be able to account for these risk factors and provide a long-term successful outcome.
4. How long will the treatment last?
As the name implies, the treatment is designed to provide the patient with immediate fixed dentition the same day of implant placement.  The prosthesis that is provided that day is a provisional prosthesis. This allows for some changes before the delivery of the final prosthesis, while it allows for the implants to heal and the patient to test his prosthesis.
The final prosthesis is delivered in about 4-6 months.  Throughout this period the patient always has a fixed, esthetic and functional bridge.
5. How long does the prosthesis and my implants will last?
As with every other dental treatment, the long term success is defined by the ability to maintain the implants and the prosthesis. It is important to follow a regular maintenance protocol every 3 or 4 months.
6. Why get this treatment in Synergy?
As with every other significant healthcare decision, it is important to seek care at an environment that values continuity of care, responsibility and genuine interest for the patient. Treatments such as "teeth in a day" are only successful if there is long term maintenance and commitment from the patient and the doctors. Drs. Ntounis and Pitman are advocates of developing a long term relationship with the patients that allows for long-term success.
For more information, please call us and ask about "teeth in a day".