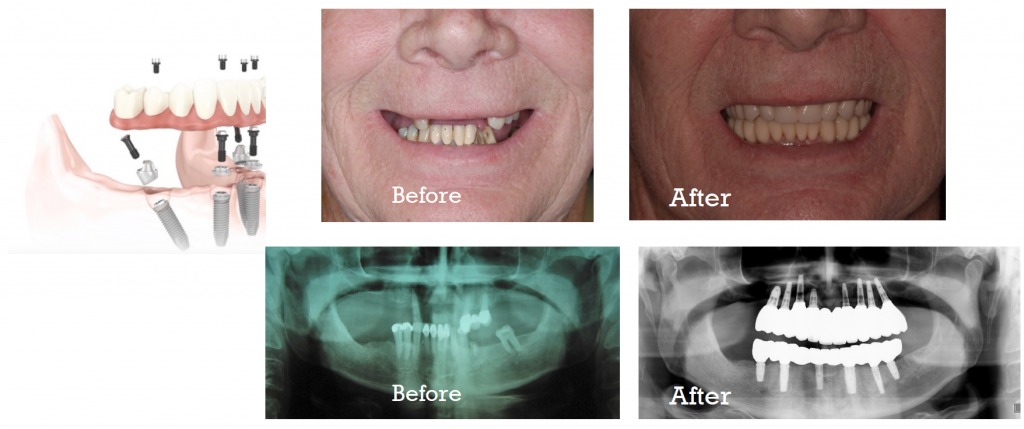 We have been getting a lot of questions from you as far as "teeth in the same day" protocols. The commercials on radio and television have raised logical inquiries.  We would like to clarify some of these points.
Drs. Pitman and Ntounis have extensive experience on dental implants and teeth in a day treatments. Dr. Ntounis is a dual specialist in Peridontics and Prosthodontics. To reach that level, Dr. Ntounis has spent 6 years of additional training in residency after dental school.
He has helped a great number of patients navigate through the various treatment options. The same treatment modalities were pioneered in the 90's and fall under the category of immediate loading of dental implants. Here are some of your questions with our answers:
1. Are teeth in a day possible?
Yes they are for the right candidates after a meticulous clinical and radiographic examination that will involve a 3-D radiograph (CBCT)
2. Do you provide this at your practice?
At Synergy Periodontics and Implants, Drs. Ntounis & Pitman have been very successful in providing immediate solutions to our patients such as teeth in a day.Since this is a combined surgical and restorative treatment, we work with the best restorative dentists of our community and we are there throughout the procedure to ensure optimum outcome.
3. Is the "teeth in the same day" a good option for everyone?
There are a number of factors that we consider during our planning. Several risk factors include history of severe periodontal disease, smoking and uncontrolled diabetes. We modify our treatment to be able to account for these risk factors and provide a long-term successful outcome.
4. How long will the treatment last?
As the name implies, the treatment is designed to provide the patient with immediate fixed dentition the same day of implant placement.  The prosthesis that is provided that day is a provisional prosthesis. This allows for some changes before the delivery of the final prosthesis, while it allows for the implants to heal and the patient to test his prosthesis.
The final prosthesis is delivered in about 4-6 months.  Throughout this period the patient always has a fixed, esthetic and functional bridge.
5. How long does the prosthesis and my implants will last?
As with every other dental treatment, the long term success is defined by the ability to maintain the implants and the prosthesis. It is important to follow a regular maintenance protocol every 3 or 4 months.
6. Why get this treatment in Synergy?
As with every other significant healthcare decision, it is important to seek care at an environment that values continuity of care, responsibility and genuine interest for the patient. Treatments such as "teeth in a day" are only successful if there is long term maintenance and commitment from the patient and the doctors. Drs. Ntounis and Pitman are advocates of developing a long term relationship with the patients that allows for long-term success.
For more information, please call us and ask about "teeth in a day".